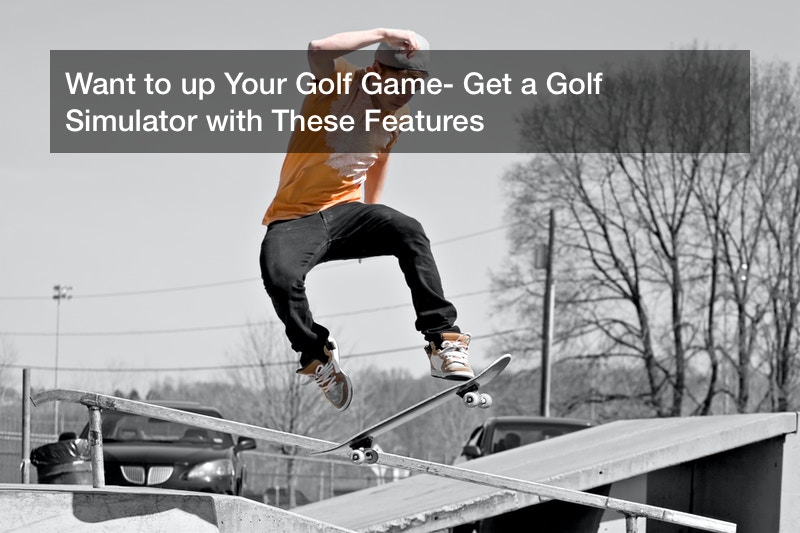 Over two million Americans played golf in 2015 with each spending on average $3,000 every year on the sport. For these players, golf is more than a hobby. It is a passion. The golf course is where friendships form and business deals are often negotiated and sealed.
The key to getting better at golf is putting in more practice hours. However, getting time in today's hectic world is becoming harder. Many players are either falling behind in their game or abandoning it altogether. As a result, players are buying top golf simulators to help them sharpen their game in their indoor spaces. If you're thinking of buying a golf simulator here are some things you should first consider.
1. Adequate Space
A popular topic for many golf enthusiasts who want to invest in top golf simulators is the issue of space. Exactly how much space do you need on your premises to make a golf simulator work? There isn't necessarily one-size-fits-all standard when it comes to space for a golf simulator. It all depends on what you find comfortable.
The minimum recommended space to operate your simulator from is 10′ x 8.5′ x 15′. However, the ideal dimensions you should target to create are 16′ x 10′ x 25′. Such a space will give you enough room for multiple players if you plan on regularly inviting a bunch of your friends over for a spot of golfing. Note that if you think you only need space for one or two friends at a time, then a 14′ space should suffice for you.
If you plan to use the garage as space for your golf simulator, you should factor in how cold it can get and what insulation is available. A basement has much better temperature control, but its major downside is that it can be too short to hit the driver. A tip if you have the yard space is to build a customized shed in your backyard that can host your simulator.
2. Quality
When you're checking out top golf simulators intending to buy one you need to pay close attention to the quality. Top golf simulators consist of hitting mats, nets and the simulation unit. When you hit the ball, sensors in the simulator detect its motion and impact. The unit will then feed the data back to you for your analysis.
Thus, the unit itself needs to be of high quality to generate accurate data crucial in helping you up your game. If, for example, the unit's sensors aren't top quality, they will miss detecting some movement which feeds you erroneous data. A home golf simulator needs a quality hitting mat to mimic what it feels like to hit the ball on the course. Lastly, a high quality hitting net is critical as it protects the high definition golf simulator screen from damage.
3. Portability
A good golf simulator for indoor use needs to be portable as you'll be carrying it from one place to another. The simulator should be relatively easy to set up and take down for fast assembly. It should also take up less space so that when you need to transport it, you won't have to scratch your head figuring out the logistics.
4. Available Courses
The software powering the golf simulator comes with preloaded golf courses you can play on. Before you settle on any unit, check the website of each software provider for the golf simulator to find what courses they currently include. Other features in the software that matter include the graphics quality, user-designed courses, and the ability for you to customize golf courses to get the kind of challenge you desire.
Buy the Best Golf Simulator
Top golf simulators are in demand as many players seek to sharpen their game when it's most convenient for them. For you to get the best out of a golf simulator, it needs to be of high quality material. A good golf simulator also needs to generate accurate data to help you make the right improvements.