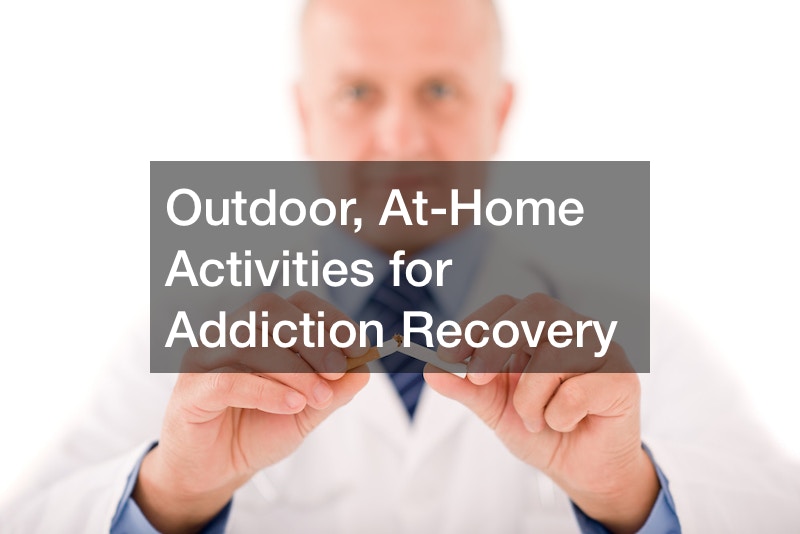 When you make the brave decision to recover from addiction or substance use disorder, you'll have a lot on your plate to plan as you transition from using substances to taking care of your mental, physical, and emotional health. One of the best places to plan your activities for addiction recovery is the great outdoors. When you experience everything that nature has to offer, you can find true healing and happiness amid your recovery from substance use.
Get with the Program
Before you can start taking steps at home to recover from substance use disorder and related issues, you'll want to get established with a treatment provider. This is especially important if you need to address health issues related to your alcohol or drug use or if detoxing is the next step in your recovery. While you might feel okay with treating your alcohol or drug use on your own, having medical professionals in your life to monitor your progress and watch for signs of medical concerns is important.
If you're not sure where to start with recovering from substance use, you can call almost any alcohol treatment service for a consultation if you struggle with alcohol dependency. For those who are addicted to multiple substances or do not list alcohol as a drug of choice, a facility that has experience treating other kinds of addictions might be a better choice. Even if you're not ready to get professional help yet, having an idea of what's out there and what you may want to do for treatment when you do feel prepared to take that leap can be a step in the right direction.
When you have a loved one who is struggling with substance use disorder, it can be hard to sit back and wait until they are ready to get help. There's no more powerless feeling in the world than watching someone you love spiral down the dark path of substance use. Even if you wish you could jump in and save that person, the truth is that the only person who can save someone from substance use disorder is the one who's struggling with the disorder themselves.
The most skilled professionals and expert care in the world can't do anything to help someone who isn't ready to receive help. Outside of encouraging someone to reach out to treatment options, attend substance use recovery meetings, and look into resources for recovery, you can't do much more to help someone struggling with substance use. To be a major help in the lives of folks who struggle with substance use, simply being a friend and a listening ear can make a huge difference. That way, when someone is ready to get help, they'll be more likely to reach out to you and trust that you will support them in their recovery efforts.
Make Healthy Habits
While you're working through addiction recovery, it can be easy to lose sight of the basics as you navigate treatment options, make appointments, and attend meetings. Although all of those things are important, it's just as important to get back to the essential habits that keep our bodies and minds healthy. As you make time for activities related to your recovery, you can plan to eat regular, nutritious meals, hydrate yourself, get adequate sleep on a healthy schedule, and take care of your hygiene.
While meeting your basic needs might not be the first thing you think of when you're planning activities for addiction recovery, it should take priority for you. At the height of a substance use disorder or addiction, it can be all too easy to let the little things slide. We may skip meals so that we can pay for our drug of choice, lose hours of sleep as substances keep us up late into the night, and neglect our hygiene needs as apathy comes into play. When the fog clears and you begin to feel more like yourself, it can feel good to take pride in your appearance and health.
On top of taking care of everyday needs like showering, brushing your teeth, eating nutritious snacks and meals, and sleeping, you'll want to stay on top of scheduling doctor's appointments. For many folks who struggle with substance use disorder, health issues can crop up after we stop using substances to cope with our problems. A lot of the substances that folks popularly use to self-medicate or in excess can cause health issues with the teeth, gums, liver, heart, lungs, and other systems of the body.
If it's been a while since you've seen your primary care physician, that can be a good place to start to come up with a plan for how you can recover your health. Naturally, your primary care physician will probably recommend spending time getting fresh air outside. This is a free way to improve your health that's accessible for most people even if you live in group housing like a halfway house or residential care facility for folks who are recovering from substance use disorder.
Create a Beautiful Space to Recover Outside
When you don't feel motivated to plan activities for addiction recovery, it might be because your outdoor space doesn't feel inviting enough for you to want to spend a significant amount of time there. Although you might not be able to change up your surroundings if you rent an apartment or live in residential group housing for recovery, you may be able to make little changes that improve the aesthetic of your outdoor area. While you might be grateful just to have somewhere to enjoy the outdoors and relish nature, it's okay to have preferences and standards for what you like an outdoor area to be.
From the patio design to the type of outdoor furniture you have, there are plenty of ways to customize your outdoor space. If you like to have shade, you can add a gazebo or other structure to your backyard that will shield you from the sun. When you prefer to work out outside, you may be able to create a space that is flat and stable enough for you to lay down a yoga mat. You could also pave a path around your yard so you can go on runs and walks without leaving your home.
Depending on where you live, whether you own the land, and how much money you have, you may be limited in how you can personalize your outdoor space. Still, even if you can just add some pictures or mugs outside to decorate the outdoor area, it can give you a sense of ownership and comfort in that place. When you feel like your outdoor space is your own, it'll be all the more enjoyable for you to conduct your outdoor activities for addiction recovery.
Take Care of Your Lawn
After going through activities for addiction recovery, you may notice that your home's landscaping needs attention. When you're in the thick of substance use, it can be hard to think about anything other than how you're going to tend to your addiction. Once you start on the path to recovery, you may find that there are a lot of things that you neglected or destroyed as a result of your addiction. While this can be difficult to accept, it's a normal part of addiction. Cleaning up the wreckage literally and figuratively, on the other hand, is a typical part of recovery.
When you want to get your lawn back into the condition that it was before your addiction took hold, you don't need to do it all on your own. You can either enlist friends, family members, or volunteers to help you if you don't have the funds to get professional landscapers to help you. If you do have a little more money at your disposal for the project, you may want to invest in hiring a landscape design company to bring your vision for your dream yard to life.
Regardless of whether you hire professional landscapers or you do it yourself, some of the activities for addiction recovery outside may not be the most fun. Mowing your lawn can feel tedious even if you feel great and aren't struggling with substance use disorder. For those who are recovering from addiction, taking care of your yard can feel like one more thing that you have to do after a long day of attending meetings, taking care of your health, and meeting with mental health professionals. Still, when your yard looks beautiful and neighbors stop to compliment it, it can give you a boost in self-esteem that's hard to come by sometimes.
Clean Up Your Property
If you've been away from your property for a while as a result of going away for residential substance use treatment, it may be time to schedule a pond cleaning and take care of other maintenance concerns with your yard. You'll also want to remove debris or clutter that has accumulated in your absence around your yard. If you have a lot of trash in your yard or outdoor area, you may need to rent a dumpster or hire a service to clear it out. These realities of home ownership can feel overwhelming if you have a lot of other items on your to-do list. For this reason, you shouldn't be ashamed or afraid of asking for help from people who are there to assist you with this process. A case manager or other professional may be able to help you break down a long to-do list into bite-sized tasks that you can manage better.
While these might not be as fun as other activities for addiction recovery, cleaning out your pond or other bodies of water on your property is necessary. Depending on the regulations of your housing authority, you may get fined if you don't do it. You may also be prone to pests and other unwanted "guests" in your yard if you have a lot of trash or other clutter in your yard that they may be interested in consuming.
If you don't know the first thing about lawn care, you may be able to take classes on it as one of your activities for addiction recovery. Outside of mowing your lawn regularly, you'll also want to water any wanted plants in your yard. Additionally, you should remove weeds and other disturbances from your lawn as soon as you notice them growing. If you wait too long to take out the weeds, they can grow to the point where they're much more challenging to remove and unsightly.
Don't Forget to Hardscape
When you have somewhere outside that acts as a gathering space like a patio, you'll want to call in hardscaping professionals to maintain the area. They also may be able to help you redesign the area if you want a fresh look. Some folks may also find it beneficial to re-do their hardscaping areas in their yard after coming home from substance use disorder treatment so their place doesn't look like it did at the height of their addiction.
When you're planning your yard, you'll have many options for hardscape designs where you can conduct your activities for addiction recovery. Some may be more modern while others may be more rustic. You'll want to consider your budget before settling on a specific look.
Take Up Swimming
Many folks who are searching for activities for addiction recovery will find swimming to be therapeutic. While swimming isn't a replacement for therapy, it's a helpful part of a recovery routine. If you would like to have an inground pool in your backyard, you should consult with inground pool companies to see if that's possible.
For many people who recover from substance use disorder or try to prevent a relapse, going outside and breathing in some fresh air can be the perfect activities for addiction recovery. When you focus on the natural scenery or get your body moving through a steep hike, it can make it a little easier to resist cravings. While there's no simple cure or quick remedy for substance use disorder, carving out time for activities that you loved before addiction took hold can make it a little less daunting to start on your journey of substance use recovery.